Rainforest Protectors Trust focuses on saving real acres of rainforest in Sri Lanka through purchase and permanent conservation of privately held forest lands adjoining Sinharaja World Heritage Rainforest. Creating a Protected Buffer Zone for Sinharaja rainforest and a Biodiversity Forest Corridor to connect fragmented patches of forest to the North of Sinharaja is our top priority aimed at preventing encroachment of forest and deforestation.
Having lost more than 95% of the original rainforests during the past century, we are fighting against time to protect what is remaining in this vital ecosystem which is home to most of Sri Lanka's endemic and endangered flora and fauna.
2022 Year-End Update from Rainforest Protectors Trust
In 2022, Rainforest Protectors Trust purchased and permanently protected an additional 10 acres of privately held primary forest adjoining Sinharaja World Heritage Rainforest in Sri Lanka as part of its long-term project to create a "Protected Buffer Zone". Funding for the conservation of above 10 acres came 100% from individual donations made through...
Read More ⇒
Why Protect Real Acres of Rainforest in Sri Lanka?
Contains high biodiversity of flora, many that are endemic and endangered species.
Prevents extinction by saving the natural habitat of wildlife species in Sri Lanka.
Conservation of existing unprotected forest is cost-effective compared to reforestation, which in sub-montane region is extremely costly due to rough terrain and labor intensive work required to care for plants and remove invasive species.
Only option to protect riverine rainforests since Sinharaja has lost its rivers which now flow through these privately held forest land.
Donors can visit the conservation lands and use nature trails for hiking and bird watching.
Protected 30 acres of primary forest and riverine forest adjoining Sinharaja rainforest.
Save 600+ acres forests currently on sale and under the threat of deforestation.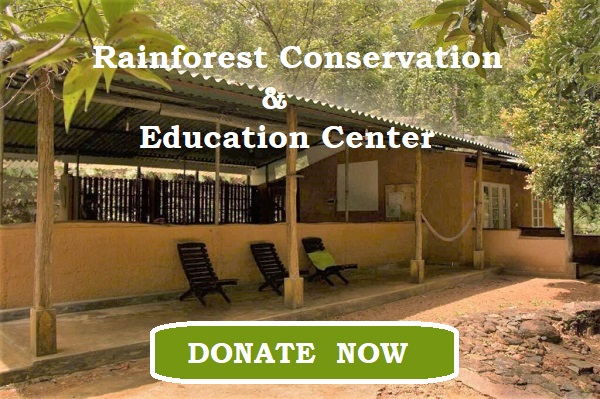 Habitat destruction and encroachment within and along the border of Sinharaja rainforest in Sri Lanka has intensified both Human-Elephant and Human-Leopard conflict. Establishing these new protected buffer zones and biodiversity corridors through strategic conservation of habitat for imperiled wildlife is the single most effective method of preventing species extinction. In addition to safeguarding nature and wildlife, these protected areas also support the livelihoods and health of villagers in the surrounding communities.
Protect an acre of rainforest on behalf of a loved one
You can make a positive change and give a lasting gift by protecting an acre of rainforest on behalf of your loved one. Your gift to the planet and your loved one will be recognized on our site together with the protected area.
Read More ⇒